Coronavirus (COVID-19) Update
Reading Time: 2 minutes
In these uncertain and unprecedented times, we wanted to reassure you that we are taking all necessary measures to ensure the health & safety of our customers and staff. We have changed our process and implemented a number of safety measures – watch this quick animation to learn what we're doing to keep you and our staff safe:
Protective Gear & Equipment 
All of our engineers will wear protective gear, including masks, gloves and shoe covers, and will be using hand sanitiser and antibacterial equipment.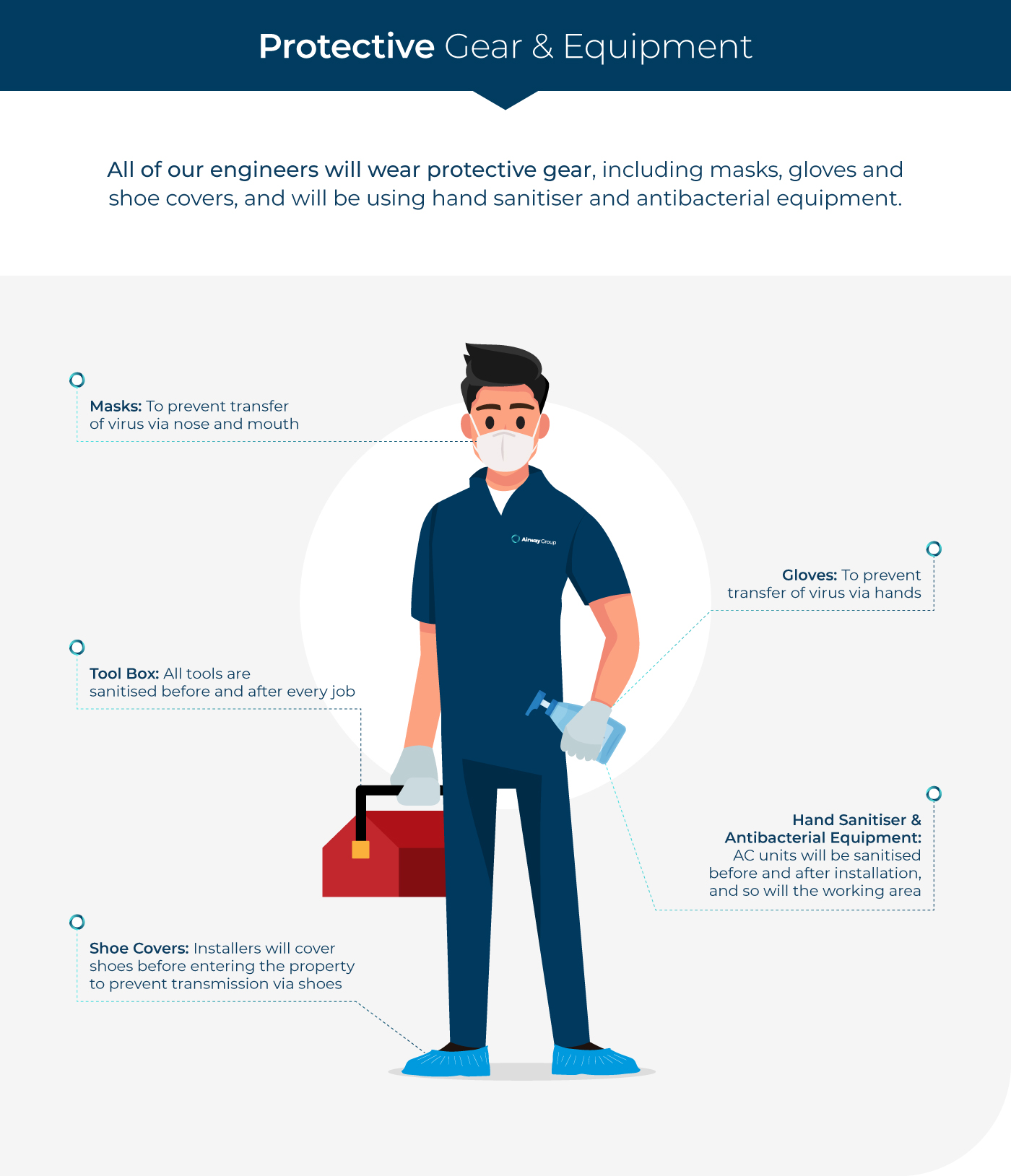 Open the graphic in a new tab.
Our Coronavirus-Safe Process
Our new process will ensure that as much work as possible is completed remotely, for example, using phone and video to arrange, explain and demonstrate as much as we can. All engineers will adhere to the latest regulations, and will not enter a property unless we have to.
Initial Contact:

Once the initial enquiry is made, we will confirm the details of the job and send a property questionnaire for you to fill out which communicates to us the health status, and also the comings and goings of occupants and visitors, so we can prepare. 

Arrival:

Our engineers arrive at the property in protective gear with fully sanitised tools, parts and AC units ready to be used.  

During Installation:

During installation or repair, our engineers adhere to all recommended regulations including social distancing. 

After Installation:

Whichever is most appropriate in your case, we will then demonstrate the new or repaired AC unit either in person, over the phone or via video. The AC unit and all tools are then sanitised again before we leave and the work area is cleared.

Future Support:

We're committed to customer aftercare, and engineers will be available for phone or video support after installation.
In addition to this, customers from the public sector can now benefit from a discount on our services – please contact us.
From all of us at the Airway Group, thank you for your continued support and stay safe.