Kemsley Battery Storage Facility – Aiding EDF to Optimise Battery Asset
Reading Time: 2 minutes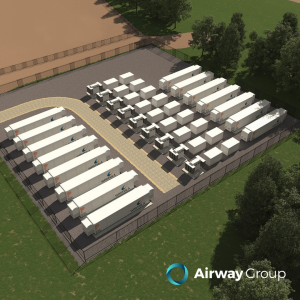 Working on behalf of G2 Energy we were delighted to work on one of Pivot Powers new battery energy storage facilities. Pivot Power (part of EDF Renewables) specialises in battery storage and power infrastructure for electric vehicle charging. Pivot Power appointed EDF to optimise 49.9MW of battery assets to aid greater flexible electricity capacity for the grid at their Kemsley site in Kent.
EDF and Pivot Power are working towards the UK hitting its target of being net zero. We will reach net zero when the amount of greenhouse gases we add is no more than the amount we remove. To achieve this the UK needs to invest largely in low carbon infrastructure. This is where battery storage comes in, it is a rapidly evolving technology, in short it is a method of storing electrical energy to use as electricity when needed.
The batteries must be stored at a temperature of around 8 degrees Celsius as they generate a significant amount of heat when charging and discharging. Failure to regulate this temperature can result in loss of capacity, reduction in performance and if severe overheating occurs, it can result is catastrophic fires.
The Battery cabins are climate controlled by two HVAC units each, totalling thirty units on site. These are manufactured in Nashville Tennessee in the United States by Marvair. Due to regulations governing the maximum volume of refrigerant that can be transported within an Air Conditioning or Refrigeration system, the units arrived in the UK devoid of refrigerant.
We were tasked with evacuating and charging each of the sixty refrigerant circuits (two per unit) and preparing them for commissioning by the specialist team of engineers from Wartsila, the cabin manufacturer. A total of 450 Kilograms of R410a was added across all systems.
Despite challenging site conditions, our element of the project was completed successfully within the allowed timescale. We are very much looking forward to working on future projects like this with G2 Energy.