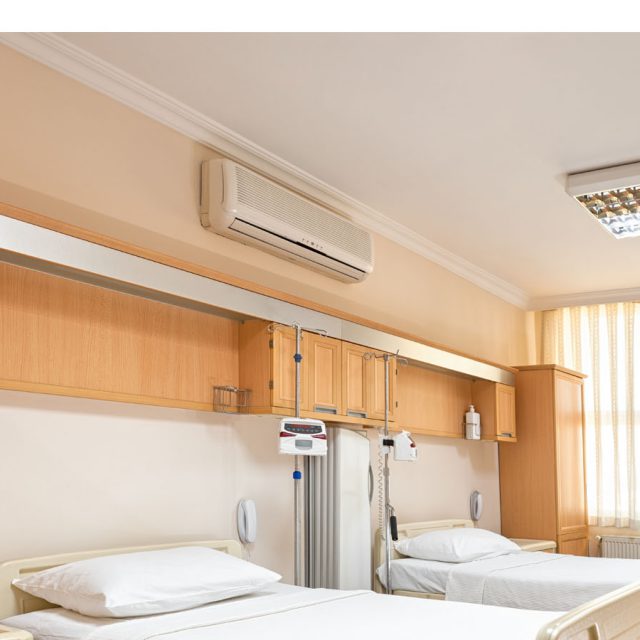 Hospital & Healthcare

Air Conditioning
Over

30 years

of experience

24-hour

backup and support

Free

no-obligation quote & free advice on any new installation

ISO 45001 accredited

Lab Tested Air Purifiers

Installation & Sales. Learn more
Hospital & Healthcare

Air Conditioning

Here at Airway Air Conditioning, we aim to provide a comprehensive service for all our customers, no matter the industry they operate in – which is why we offer a wide variety of air conditioning services that can provide the accuracy needed for a hospital setting or any other healthcare setting. Our air conditioning systems include:

All our air conditioning systems adhere to all health and safety legislation, offering accurate temperature and humidity control, whilst being tailored to your hospital's or healthcare centre's needs.
Air Conditioning for Hospital Wards & Operation Theatres
If you're looking for hospital air conditioning systems, our expert team of engineers can advise and guide you on choosing the best system that will operate within the strict hospital room temperature guidelines. We understand that operation theatre air conditioning is crucial for patient comfort and recovery, infection control and medical equipment storage, which is why our team is highly qualified in delivering accurate advice on the best air conditioning systems for your hospital.
We can install air conditioning systems with minimal disruption to your hospital's daily routines, so get in touch with a member of our team if you're interested in learning more about our services.
GP Surgeries, Clinics & Other Medical Air Conditioning
By maintaining the optimum temperature in health centres by using high-quality air conditioners, you'll be preventing the spread of infection in your building. Places such as dentists, pharmacies, clinics, rely on air conditioners of a high standard to promote recovery and help keep medicines at their optimum temperature. Furthermore, if you're in need of emergency air conditioning, our team can install temporary portable air conditioning systems swiftly with minimal disruption to your health centre.
We serve across Cambridge and beyond, having built a strong reputation with many businesses and industries over the 30 years we've been operating. Contact a member of our Airway Air Conditioning team today if you'd like more information on any of our services – we'll be happy to help with any queries you have.
Get your free no obligation quote