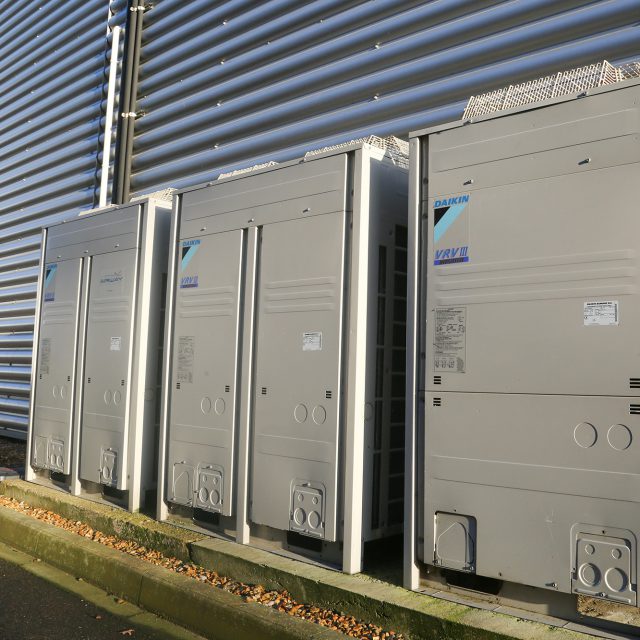 Industrial
Property Services
Over

30 years

of experience

24-hour

backup and support

Free

no-obligation quote & free advice on any new installation

ISO 45001 accredited

Lab Tested Air Purifiers

Installation & Sales. Learn more
Industrial
Air Conditioning
Air conditioning in industrial premises is about more than just the comfort of staff and visitors.
While that is, of course, very important, the different environments and purposes of industrial plants has a direct impact on the suitability of certain air conditioning systems. For example, a fruit and veg warehouse will require specific temperatures to stop the produce from spoiling – this may encompass a cold room or walk-in fridge, for example. Conversely, other environments might have high levels of contaminants in the air and therefore require specialist filter technology.
State-of-the-Art AC
Airway can provide industrial properties with state-of-the-art air conditioning systems that perfectly meet the requirements of specific environments. From food processing plants to laboratories, we know exactly which air conditioning systems will work best for your industrial premises.
As a trusted supplier of systems from the world's leading manufacturers, including Daikin, Panasonic Sanyo and LG, we're vastly experienced in the installation, servicing and repair of industrial air conditioning systems, as well as the design and implementation of bespoke air conditioning systems.
We offer a prompt service, 24 hours a day, all year round, so you can be sure that you won't be left waiting around when you come to us.
Industrial Electrical & Gas Engineering Services
At Airway Group, we also provide electrical and gas engineering services for industrial properties across the UK. So whatever your property needs, the team at Airway can help.
Get in touch with us today to find out more or to receive your free, no-obligation quotation.
Get your free no obligation quote