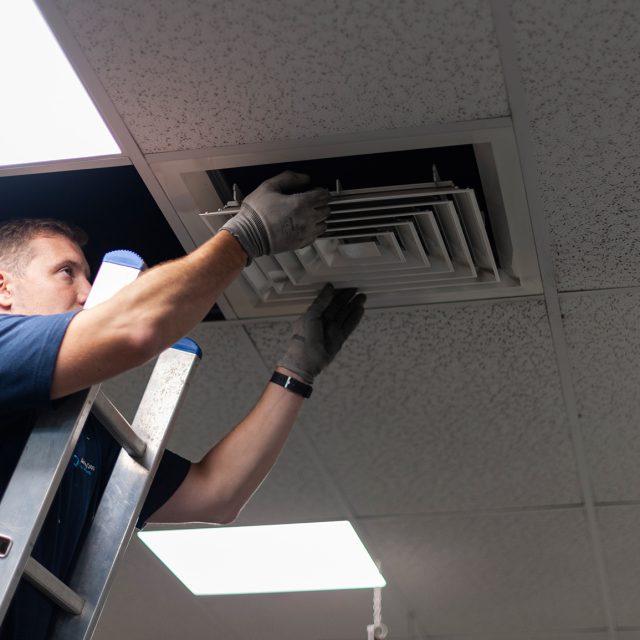 Laboratory
Property Services
Over

30 years

of experience

24-hour

backup and support

Free

no-obligation quote & free advice on any new installation

ISO 45001 accredited

Lab Tested Air Purifiers

Installation & Sales. Learn more
Laboratory
Air Conditioning
In laboratories, there is absolutely no room for deviation from the required temperatures.
The various sensitive and even dangerous materials that exist in these environments need to be kept in very specific conditions so as to avoid contamination, damage or accidents. As well as the temperature of the air in a laboratory, the quality of the air needs to be at the highest level to avoid any issues.
Control your Laboratory Environment
To ensure that you have the right temperature air, a climate control system from Airway Group is ideal. Our precision laboratory air conditioning systems can be used remotely to make sure your climate is always as it should be. To preserve air quality, you need to ensure that your system is free from dust and dirt – our professionals can provide a maintenance service that keeps your air conditioning unit or units in top condition at all times.
Laboratory Heating & Electrics
As well as air conditioning services, Airway Group are also able to provide comprehensive electrical, heating and plumbing services for laboratories across the UK. Whatever installation or maintenance your property may need, Airway can help.
To find out more about the range of services that we provide, please feel free to get in touch with us today and we will be more than happy to help you with anything you need.
Get your free no obligation quote